Coronavirus
United Against the Coronavirus Epidemic
United Against the Coronavirus Epidemic
The HEC Paris community has united as best as it can in confronting the COVID-19 pandemic on a daily basis. We are analyzing its impact on our lives, our economies and our societies.
On this page, you will find all the information, initiatives, resources and useful contents HEC Paris is proposing to navigate the waters of these times.
The "HEC Paris Insights" Webinars
Our initiatives
The mini-website « #StaySafe, by the HEC Paris Community »
Founded on March 20 by the HEC Paris campus psychiatrist, Doctor David Gourion, this site is fed by the school's students, professors and collaborators . It is both collaborative and evolving. Its objective is simple: to share eyewitness testimony, ideas, content and useful documents which allow us to navigate these periods of COVID-19-linked confinement with serenity.
Hacking Covid-19
Lucille Collet and Camille Zivré, two recent graduates from HEC Paris, organized a 48-hour virtual hackathon in April with the aim of developing solutions to address the most urgent health, social and financial problems caused by the COVID-19 epidemic.
Created in partnership with HEC Paris, Ecole Polytechnique and Sciences Po Paris, this event took place online (on the BeMyApp platform) during the weekend of April 10-12, and focused on 4 main themes:
Helping healthcare professionals
Helping governmental institutions
Helping businesses
Helping communities
More information on the Hackathon website
Coviz19: a dashboard to visualize the progression of the coronavirus
Mathis Batoul is a student at HEC Paris, in his gap year. He has recently been accepted to the MSc Data Science for Business, conducted jointly with Ecole Polytechnique.
Mathis has used the free time provided by the containment over the last few weekends to work on Coviz19, a dashboard that allows to see the progression of the coronavirus in more than 250 geographical areas.
Two visualization modes are proposed for each category of data (confirmed cases, active cases, deaths and recoveries):
Trajectories allows to compare the evolution in the selected countries at the same stage of the epidemic. It represents the progression of the number of cases according to the number of days after the 100th declared case.
Cumulative represents the progression of the number of cases day by day over a chosen period in the selected countries.
The data used is published by the Johns Hopkins Center for Systems Science and Engineering (CSSE). 
This is a purely informative and non-profit project. The platform's code is open-source: Mathis Batoul is currently trying to mobilize a community of developers to contribute to the project.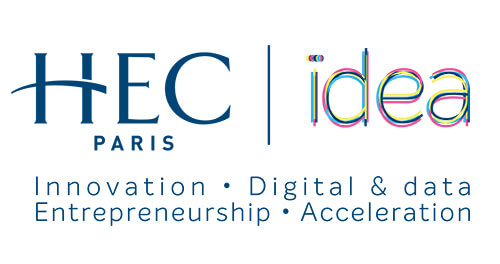 For entrepreneurs
The entrepreneurial community, united within the HEC IDEA Center, is mobilized to accompany entrepreneurs and project innovators. Among the initiatives of the past days, we would like to spotlight:
The establishment by Accélérateur ESS (Ile-de-France region) of a repertory of medical devices and help available for businesses (in French).
A list of services available, established by the HEC ecosystem's startups (in French).
And a list of several citizen initiatives launched from within the HEC Paris community.
For more information, go to HEC IDEA Center 
HEC Foundation
HEC Foundation: a solidarity fund to support students affected by the Covid-19 crisis
The current health crisis is affecting the already fragile financial situation of some of the School's students and their families. Many of them are facing financial difficulties due to the cancellation of their internship. 
This is why the HEC Foundation has set up a solidarity fund to help students, to anticipate the support that will be needed in the coming months, and to ensure the continuity of the aid that it allocates each year to students in the different programs.
Let's mobilize and show solidarity to help students in difficult situations!
For any further information, contact the HEC Foundation team: fondation@hec.fr
HEC Alumni
HEC Alumni and Sciences Po Alumni are launching a call for donations to urgently support the action of 2 international medical humanitarian organizations in the fight against the Covid-19 virus: Médecins Sans Frontières (MSF) and Médecins du Monde.
The Covid-19 epidemic has already spread to more than 100 countries around the world, to places with fragile health systems and to regions like Europe where national response capacities are more robust but where the epidemic is particularly virulent.
There is a shortage everywhere of essential equipment for caregivers, volunteers and emergency teams: protective masks, gloves, test kits, oxygen, etc.
The needs are colossal and are unfortunately increasing every day. It is urgent for us all to mobilize as soon as possible.

Today, our schools' communities are committed:
to collecting donations
to bringing a trusted supply chain, allowing quality suppliers in China to produce the medical equipment that MSF and Médecins du Monde need for their priority actions.
In recent days, the HEC Alumni network in China and in Europe has volunteered to coordinate the production and transportation of tens of millions of protective masks and medical equipment to cities where they are needed. This contact person for this initiative is Thibaud Sarrazin, President of the HEC Alumni Chapter in Shenzhen.
You can contribute to this call for solidarity by making a donation today to allow MSF and Médecins du Monde to protect caregivers and provide medical assistance to vulnerable populations facing the epidemic all over the world.

100 million masks collected by a volunteer team from HEC Alumni
The HEC Alumni network in China and Europe has volunteered to coordinate the production and shipment to France of tens of millions of protective masks and medical equipment.
In 48 hours, HEC Alumni volunteers managed to collect 7 million masks, a figure that reached 100 million after two weeks. The initiative came from the president of the HEC Alumni Chapter in Shenzhen,Thibaud Sarrazin.
Interviewed on France Info on April 5, Frédéric Jousset, President of HEC Alumni, explained that, on the spot, the association had succeeded in setting up a supply chain and a routing system, in coordination with the Ministry of Foreign Affairs. The objective is to equip caregivers and staff in EHPAD (residential care homes for the elderly).
Our Corporate partners' commitments
The health crisis we are experiencing concerns individuals, but also companies and organizations. HEC Paris' corporate partners get involved and mobilize their teams, resources and technologies to help patients, caregivers and local and national public authorities.
What our Professors Say
Find the interviews of HEC Professors on SoundCloud:
Tomasz Michalski, Associate Professor in Economy and Decision Sciences at HEC Paris:
Alberto Alemanno, HEC Paris Professor, holder of the Jean-Monnet Chair in European Law:
Jean-Edouard Colliard, Associate Professor of Finance at HEC Paris:
Kristine de Valck, Associate Professor in Marketing at HEC Paris:
Anne-Sophie Chaxel, Associate Professor in Marketing at HEC Paris :
Sangseok You, Assistant Professor in Information Systems & Operations Management at HEC Paris:
Brian Hill, CNRS Research Professor in Economy and Decision sciences at HEC Paris:
Jeremy Ghez, Associate Professor in Economy and Decision sciences at HEC Paris:
Hélène Löning, Associate Professor in Accounting and Management Control at HEC Paris:
Georg Wernicke, Assistant Professor in Strategy and Business Policy at HEC Paris:
Jean-Michel Gauthier, Professor at HEC Paris and Executive Director of the Energy & Finance Chair:
Mathis Schulte, Associate Professor in Management & Human Resources at HEC Paris:
Find other interviews of HEC Professors at Knowledge@HEC:
Our resources
Free MOOCs
"Creating and Developing a Tech Startup": this MOOC, available on Coursera, is offered by HEC Paris and Polytechnique. It allows participants to identify and evaluate opportunities for creating a tech business, and to better understand its principal issues on a human, technical, commercial, environmental and financial level.
As such, you will obtain solid foundations either for building your own tech business, or for joining one.
"Become an entrepreneur of change": this has been classed regularly among the best MOOCs in French, and is designed to learn to be entrepreneurial. It accompanies all those who wish to have a positive impact in society, but who do not know how to go about it. Whatever your age or your academic training, this will help you find the best path to change the business landscape, and to correspond to your nature! You will learn how to transit from a desire to an idea, and from an idea to an action.