Business & Geopolitics: A Global View
Interactive Online Program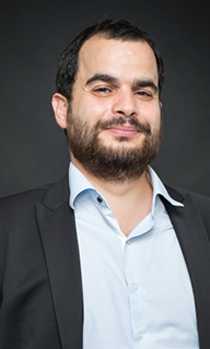 This online program empowers participants to draw operational implications from geopolitical analysis. We seek to go beyond the headlines and rethink what deserves our attention and resources.
What?
A 5-week online program which gives you the opportunity to learn on your own time, whilst interacting with your co-hort, and to supplement your learning with weekly live, interactive sessions with HEC Paris Professor, Jeremy Ghez.
This cutting-edge program is an abridged version of the Geopolitics, Globalization & Business Strategy program taught in-person by Professor Ghez during the Summer School at HEC Paris.
"Business & Geopolitics: A Global View" offers a flexible alternative for students and young professionals leading busy lifestyles around the globe and who want to continue their learning during the academic year.

WHEN?
End of January – 1st March 2024
Starting as of the last week of January 2024, the first module will take place on your own time with interactive online activities and readings.
As of February 2nd, on each Friday at 14h30 CEST time, you will have the chance to interact with Professor Ghez and the other international participants during live-time weekly online sessions, providing another dimension and further value-add to this interactive online experience.
We held a webinar with Professor Ghez on Friday 20th October @ 2pm Paris time. Contact us if you would like to receive the link to the recording of this webinar.
Overview
The past two decades have served as a reminder that companies do not make decisions in isolation. Various external factors, such as geopolitics, global warming, and evolving societies, have a significant influence on their successes and failures. Assumptions that were once considered solid about how the world operates and its stability are now constantly being tested by both expected and unexpected events that can unfold rapidly, as the health crisis showed. Furthermore, geopolitics not only presents global risks but also serves as a conduit for contagion, potentially turning an incident into a systemic failure of the international system. Some observers even question whether globalization as a whole may face challenges.
This program empowers participants to draw operational implications from geopolitical analysis. In business today, we can become easily obsessed with inboxes, and be tempted to micromanage, isolate issues and be excessively backward-looking in our analyses as a result. In this program, we seek to go beyond the headlines and rethink what deserves our attention and resources.

METHOD
This interactive online program will run for 5 weeks. It will blend weekly synchronous live sessions on a Friday afternoon with interactive online modules and reading via Blackboard, so that you can organise your learning around your personal schedule.
There will be a total of 27 hours of content and contact, with 17 hours of interactive online modules and 10 hours of live webinar sessions. You should also plan for an estimated 4 hours per week of personal study time in addition to the content and contact hours, averaging 9 - 10 hours per week for the duration of the program.

· Applications, including lectures, case study discussions and simulations, will allow participants to step into real-life situations in the shoes of decision-makers. These applications are designed to help participants understand the key dilemmas decision-makers face and how they make their decisions.

· Class lectures and discussions will introduce participants to key concepts and tools and help them understand the basic foundations of geopolitical analysis and how it can be applied in the business realm.

Learning Outcomes
At the end of the program, participants will be able to:
Understand the strategic landscape in which decisions are taken
Assess business risks and opportunities entailed by geopolitical dynamics
Monitor changes in the international landscape, including the likelihood of low probability and high-impact events (black swans)
Integrate geopolitical analysis in the firm's broader international and risk-mitigation strategies
Develop a long-term, consistent strategy and vision, beyond mere day-to-day tactics

How to apply
Applications for this program are now open. As places will be filled on a rolling basis for eligible candidates, it is recommended that you apply early. Applications will close on January 2nd, 2024 at 11:59pm CEST.
You will be informed of the decision of the admission committee within 48 hours following the jury.
Upon receiving an offer of admissions, you will have 2 weeks to confirm your application and make your program payment. In the case of a late application, a shorter time period may apply.
Pre-requisites
All core concepts will be explained during the class. There is no prerequisite for attendance. A background in economics or finance is however welcome. Applicants are expected to have completed at least one year of undergraduate studies at the time of the program. Young professionals without significant experience in the field are welcome to apply.
Language of Instruction
The program will be taught in English. Applicants whose native language is not English will be required to submit proof of proficiency in English. Native speakers and C1 level speakers will gain maximum benefit from the online program, also due to its interactive nature.
In the case of undergraduate studies that were taught entirely in English, a transcript will be sufficient as documentation.
Fees
There is a €50 non-refundable application fee.
The academic fees for this program are €1900
for students and young professionals.
We are delighted to announce that we have secured additional funding for a limited number of merit-based scholarships for this new online program.
You can apply to be considered for a merit-based scholarship by submitting a personal statement with your application, elaborating on why you think you deserve to be awarded such a scholarship. The amount will depend on the quality of the application, starting at €250.
We also grant a 10% reduction on our academic fees for the following categories:
HEC Paris alumni or their children
Former participants of the HEC Paris Summer School
Siblings of a current HEC Paris student