Academics Deconstruct Exclusion Measures Against Top Women Athletes
Exactly a year after their research paper was published by the Journal of Law, Medicine & Ethics, Professors Matteo Winkler and Giovanna Gilleri outlined the key points in "Of Athletes, Bodies and Rules: Making Sense of 'Caster Semenya'". The paper deconstructs narratives used by adjudicators to exclude athletes with differences in sex development (DSD). This public debate comes as controversy over transgender athletes and testosterone levels in women's sports resurges.
By winning the 500 yards freestyle NCAA swimming title, transgender athlete Lia Thomas reignited debate over policies dictating what "type" of woman one has to be in order to participate in certain sporting disciplines. The American's March 17 win raised a storm of protest culminating in World Athletics president Lord Sebastian Coe declaring "the integrity of women's sport and, actually, the future of women's sport is very fragile."
Such statements made the research by HEC professor Matteo Winkler and PhD researcher Giovanna Gilleri of the European University Institute all the more topical. A year after elaborating on the research in an HEC podcast, Winkler said little has evolved. According to the two academics, there are certain parallels to be made between Lia Thomas and double Olympic champion, Caster Semenya. The controversies emphasize "an exclusionary regime for athletes with differences of sex development… and demonstrate(s) an inherently myopic view of scientific and ethical concerns."
For over an hour, Winkler and Gilleri described to an online audience the conclusions of two years of work in which they deconstructed the four narratives derived from the Caster Semenya vs IAAF (Court of Arbitration for Sport or CAS). Gilleri detailed the policing of gender boundaries which, she said, was a combination of stereotypes, suspicion of gender non-conformity, collective surveillance and stigmatization. "It is an empty box which is filled with a number of gender assumptions," she said. Both academics pointed out the focus on athletes from the Global South who have been ostracized and banned from sports as a result of an "essentialist notion of a woman's sex, based on biological concepts determining that an athlete belongs to one of two categories." This has resulted in the creation by the CAS of eligibility regulations designed for what it calls "the Female Classification of athletes with Differences of Sex Development (DSD Regulations)".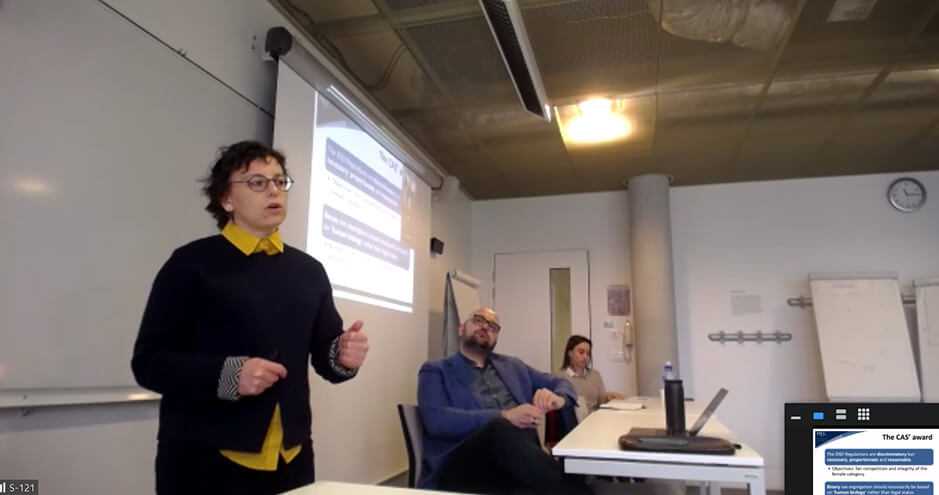 Red Flag
The discussant during the April 6 exchange was Bianca Crivellini Eger, a qualified lawyer and Ph.D. student at HEC. She said she was surprised that the CAS and the Swiss Federal Supreme Court admitted there is a form of discrimination against athletes like Caster Semenya but somehow "that was okay." "Words like 'discrimination' have a strongly negative connotation but, according to this decision, it's justified. For me, this is a clear red flag."
Meanwhile, 31-year-old Caster Semenya continues to press charges against World Athletics, this time in her appeal to the European Court of Human Rights. "I hope the European court will put an end to the longstanding human rights violations by World Athletics against women athletes," the South African declared. "All we ask is to be allowed to run free, once and for all, as the strong and fearless women we are and always have been." At the same time, the 800 meter champion has been tackling the 3,000 meters since, for World Athletics, DSD Regulations only apply to running distances between the 400m and the mile. Semenya's aim is to compete over the distance in the World Athletics Championships 2023 in Budapest.
---
Listen (or listen again) to the July 2021 Knowledge@HEC podcast by Matteo Winkler