Society & Organizations Institute
HEC EarthWeek: One week to rethink your environmental impact
In February 2020, the HEC Paris campus welcomed a week-long event on the topics of sustainable innovation and responsible business, organized by the student association Esp'R. The 1,500 students living on campus were invited to conferences and workshops to reconsider the way they consume and change their habits towards more sustainable behaviors.
Four thematic days to discuss all the subjects related to ecology
February 5th marked the beginning of Earth Week. We organized with HEC Débat an opening ceremony with the founder of Carbone 4, Jean-Marc Jancovici, followed the day after by a simulation of a parliamentary debate on nuclear energy, set up by the student public speaking association Lab'Oratoire. One of the participants said: "it's time to stop fooling ourselves. Let us move away from immobility, conformism, cowardice., we must adopt the necessary sustainable measures to ensure a serene future for the coming generations". Each day of the week covered a different topic that we found very important for the environment: Energy & Water, Food, Consumption, Net & Mobilities. All of the topics were covered in infographics, exposed in the T building and published on social media. Daily activities organized were always linked to the thematic of the day.
For instance, on "Consumption Day", a plant-based cooking lesson, and a vegetarian buffet co-organized by the different cultural associations of HEC took place. The different cultural associations were glad to rediscover the main typical dishes from different cultures in vegetarian versions. It allowed many people to see that it is possible to enjoy a meal without meat or fish.
A wide range of events to reach as many people as possible
"What you organized is amazing, so varied and not judgmental", told a student participating in our activities. As the main objective was to sensitize HEC students, they decided to organize as many diverse events as possible with the aim to reach out everyone: serious or professional events such as conferences, infographics, meetings with professionals, entrepreneurs or hands-on and more ludic experiences like DIY workshops, an escape game ,and a clothing swap. About the escape game, Annaelle, a participant told us that it was "very fun and ludic, adapted to everyone's level (the challenges that you could choose to do or not)".
All participants on the DIY workshops said that they would have never tried doing DIY by themselves if there was no workshop. And to the question "Do you think you will do more DIY by yourself?", some of them answered "Yes but only the product I learned during the workshop" and a majority even said "Yes and I might even try new recipes by myself". the organizers from ESP'R also made sure to involve directly as many students as possible in this project within Esp'R but also by partnering with numerous student unions and organisms to organize these events like Assauce, HEC Débat, Level Up, Haute-Couture, some SASI students, and the RU to mention only a few.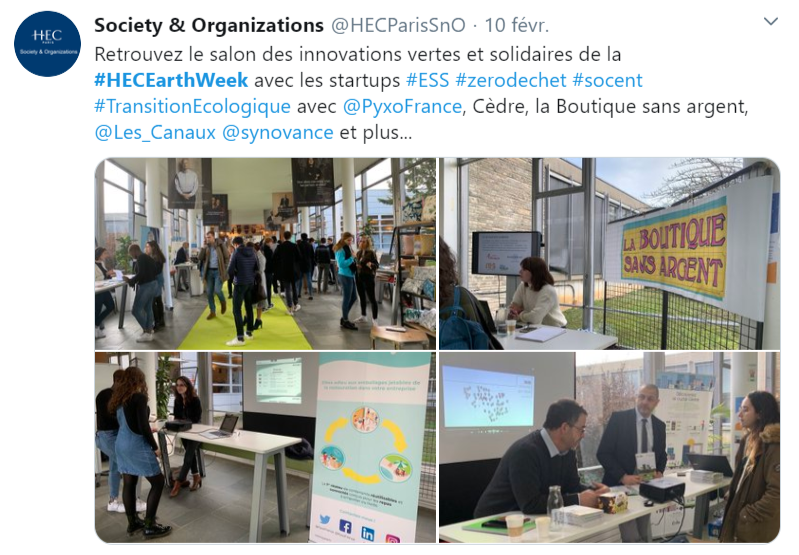 The legacy of the Earth Week
"As project coordinator, I had a big apprehension about the students' involvement and interest in the event but they surprised me very pleasantly: each event was a great success with excellent feedback and the students were delighted that one week was dedicated to these major issues. I hope the future generations will keep on organizing editions of Earth Week", said Noémie.
The students hope that this Earth Week will become a tradition in HEC, with a new edition more relevant and powerful each year. We want the link we created with the mayor's office of Jouy en Josas and some of the inhabitants will persist over time. We also want to display some of our infographics permanently in the restaurant. The infographics and events inspired schools on the Plateau de Saclay and they hope to create a trend in the Grandes Ecoles. 
See here some of the infographics that was showcased in the HEC Gallery
This article was written by Noémie Sahuc, HEC Paris Student in the Master in Management