HEC Entrepreneur Fest, an Event Devoted to New Faces in Innovation
November 21 marked a celebration of entrepreneurship, innovation and HEC Paris' expertise in both fields. They were at the heart of the inaugural Entrepreneur Fest organized at Station F. The world's biggest startup campus has hosted the HEC Incubator since it opened in July. In a festive atmosphere, a large and diverse audience, composed of young entrepreneurs, professors and business leaders, came together for an evening of exchange, pitches and rewards.
The evening kicked off in Station F's amphitheater, the Master Stage, with a dynamic speech by Eloïc Peyrache, Associate Dean at HEC Paris. This was followed by the pitches from nine startup finalists who shared strong elements of innovation, energy and surprise.
This was the ideal occasion for these young entrepreneurs to present their business model and vision in merely three minutes.
It was also an excellent platform to reflect the activities of HEC Paris' three Centers of expertise, each one of which proposed a trio of startuppers for the pitch.
For the Digital Center, these comprised of Madumbo, an AI-powered tool allowing for complete automated testing of websites; Skello, an application devoted to the efficient management of a restaurant's accountancy and personnel; and Copelican, a platform which makes it easier to send objects abroad.
For its part, the Society & Organizations Center (SnO) selected FEM 21 and its pioneering networking for Montessori schools and their inclusive and participatory model; Neyb's, a facilitator of communication between tenants and landlords; and Myjobglasses, the digital platform which brings together students and professionals.
The Entrepreneurship Center put forward Trip Afrique which invites people to reserve bus, train or plane tickets in Africa; DataSoluce, a platform which synchronizes the data produced by each actor of the construction value chain; and Neuroflows, a company dedicated to neurofunctional imaging and research capacities in this field.
A startup village
Throughout the evening, HEC's entrepreneurial ecosystem also exhibited its strength in depth by transforming Station F's central hall into a vast "Startup Village". Around 40 nascent companies exhibited activities as diverse as software editing, training, marketing, civic tech , e-commerce, construction, hotel management, leather and luxury goods, fintech, cleantech , fashiontech,  communications, recruitment, innovation counseling, food, education, computer programming, insurance, real estate, AI, transport and logistics, tourism, personnel development, floral arts, etc. … The startuppers were able to exhibit their expertise, exchange amongst themselves and establish invaluable contacts for the future.
Three young companies rewarded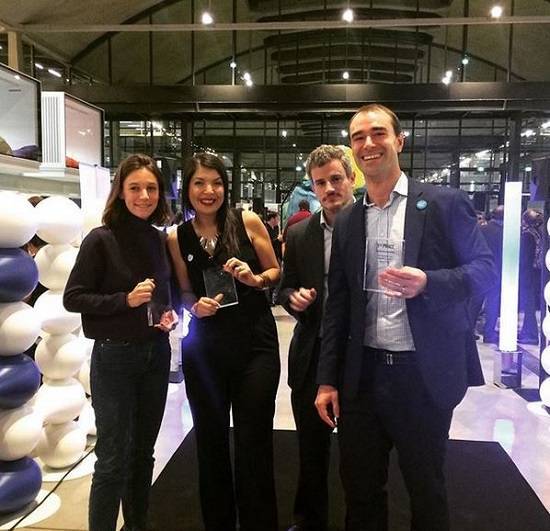 The pitching exercise also allowed participants to distinguish the nine startup companies as they presented their activities in the early evening. A mobile application gave the audience the opportunity to vote for their favorite companies, according to a series of categories.
Once the results collected, three businesses (one from each of the HEC Centers) stepped up to accept the award at the Startup Village, in the event's closing ceremony. HEC Dean Peter Todd, Arnaud Bouchard, Executive Vice President at Capgemini Consulting, and Sylvia Métayer, CEO Corporate Services Worldwide at Sodexo, handed the trophies to the three winners:
Neyb's and its founder Hafida Guebli, from the SnO Center.
Skello and its instigator Emmanuelle Fauchier Magnan, from the Digital Center.
Data Soluce, led by Nicolas Régnier, from the Entrepreneurship Center.