Pioneering HEC Conference Bridges Law-Computer Science Divide
Top researchers and practitioners from the legal fields congregated in central Paris on March 21-22 for a groundbreaking conference devoted to the impact of AI, data mining and Smart Law on the legal discipline, practice and research.
"It's time to start a conversation between academics and legal practitioners." This was the clarion call by David Restrepo, HEC Professor in the Law/Tax Department to fellow academics, lawyers and students. Restrepo was the co-organizer of the two-day Legal Data Mining Conference held in the regal Hôtel Harlay, named after one of Henri IV's high magistrates, Achille de Harlay. The designated site for the conference seemed highly appropriate: this Maison du Barreau was redesigned in 1996 to encourage dialogue between law professionals and business representatives.
With the March 2019 conference, David Restrepo aspired to create a long-lasting "conversation" on the practical issues of legal data mining and the fundamentals behind it, as AI techniques assume a more meaningful role in legal fields. In this, he was helped by co-organizer Michalis Vazirgiannis, Professor at Ecole Polytechnique, It was an event saluted by all those attending in central Paris, including Mireille Hildebrandt, Senior Research Professor at Vrije Universiteit Brussels.
Common Language
"This conference is an unexpected gem," said the Dutch academic who has been leading research on the interface between law technology and computer science since 2004. "It brings together a fantastic range of experts in the legal field. We all share a fascination for the architecture and the far-reaching consequences of new technology on law and computer science. In AI and computational law, they are building interfaces in one way or another and it is extremely important that lawyers become involved with data mining."
Indeed, the rapid development of data mining and machine learning is opening up opportunities for lawyers - but also challenges. David Restrepo believes the conference allowed new opportunities to build bridges between the different disciplines present. The affluence of specialists from as far afield as Japan, North America, Belgium and the Netherlands testified to the importance of the event. "We've fulfilled the objective of creating a common language to emerge between data-scientists, legal scholars and practitioners. We also saw different perspectives being aired from within each of these domains."
AI and Blockchains
The two-day gathering saw debates plunge into topics as varied as automation of legal analysis, how law helps to govern blockchain processes, the self-driving car and AI courts, and the new tools for law practice in the digital age. This last topic was delivered as a keynote speech by one of the leading lights in the field of computer modeling of legal reasoning, Professor Kevin Ashley. The Professor of Law at the University of Pittsburgh is a world authority on computer modeling of legal reasoning. "It's important to provide ordinary citizens access to legal texts and legal precedents," he said after the conference. "Statistics and connection models can be very helpful in helping people to understand the meaning of statutory terms and finding relevant cases at no cost."
However, Mireille Hildebrandt warned of challenges posed by over-automation of law. "If you're automating law, it's no longer law," she pointed out. "It becomes public administration if it's done by the government. So we need legal protection against this automation. And my research shows that it's much more expensive than having people, since you need to invest in software. Then there is the maintenance, updates, monitoring, not to mention possible liability issues when things go awry." The academic has been awarded a €2.5 million grant to explore the consequences of artificial intelligence and blockchain for law. Her interest in improving access to justice is shared by young researcher Hannes Westerman of the University of Montreal. The Ph.D. student has created a JusticeBot project which uses the AI interface to indicate what decisions plaintiffs might expect if they go to court.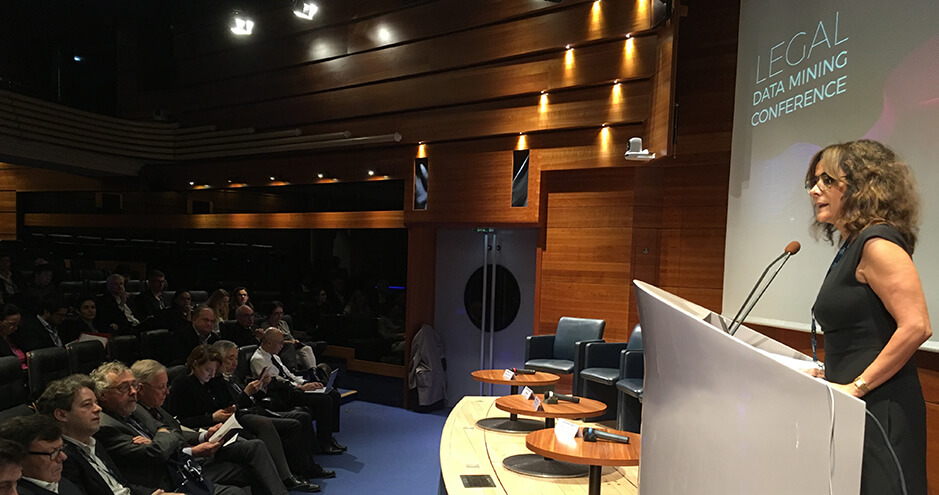 Marrying Law and Computer Science
HEC Post-doctoral Research Fellow Delphine Dogot also explores the relationship between law and blockchains, as one of several projects on ways the law is transformed by digital technology. The conference co-organizer is a member of the Smartlaw hub, and has launched the  new blockchain lab  to host events devoted to exploring this field. "Legal data mining and digital technology is going to be a game changer for the legal community and society at large," she said. "Digital technology can for instance be used to analyze how decisions are structured, what arguments are used. It also influences how lawyers take strategic decisions on litigation or in entering business relations. Our work in the HEC law department sheds light on fundamental questions that lawyers, judges, legal professionals and computer scientists must have in mind when designing and using these tools". 
By the end of an intense conference, the participants agreed that legal practitioners and computer sciences are destined to interact in developing new legal hermeneutics. AI applications can clearly help take legal information and cluster it in order to identify relevant information in domains such as case law. "More accurate in less time," is how top Canadian researcher Randy Goebel summed it up. Those gathered at the conference insisted, however, that lawyers must retain the inherent agonistic and adversarial nature of the law. This seems part-and-parcel of projects devoted to a new conception of law which uses advanced machine-and deep-learning for texts, documents and graph mining. "This leads to Smart law, a comprehensive analysis of legal practice which incorporates scientific, mathematical, risk and technologically-driven facets," concluded David Restrepo.