What is social entrepreneurship?
Individuals increasingly pursue social entrepreneurship and combine entrepreneurial activities with a social mission.
Upload the PDF: What is social entrepreneurship?
What is social entrepreneurship?(1) 
Social entrepreneurship (SE) is an umbrella term that refers to all "activities and processes undertaken to discover, define, and exploit opportunities to enhance social wealth by creating new ventures or managing existing organizations in an innovative manner" (Zahra et al., 2009, p. 519). Even though no standard definition exists yet, scholars agree that SE combines entrepreneurial activities with a social mission. 

The change makers (1) 
Social entrepreneurs are individuals that who apply a business logic in a novel and entrepreneurial way to improve the lives of those in need and incapable of changing their situation. Muhammad Yunus (Grameen Bank), Bill Drayton (Ashoka), Blake Mycoskie (TOMS Shoes) are prominent examples of persons  that have created business ventures aimed at solving societal problems. Social entrepreneurs are important actors of social transformation, catalysing inclusive growth, empowering women, and creating social change. 


A global phenomenon? 
While the numbers of SE-related activities are increasing on a global scale, SE is still a rare phenomenon. In 2015, the number of individuals starting or leading any kind of activity with a social, environmental, or community objective across 58 countries was merely 3.2%, ranging from 0.3% (South Korea) to 10.1% (Peru)*, in comparison to the average rate of 7,6% of commercial entrepreneurial activity in the start-up phase. Today,  SE-related activities are mostly at early-stage but can be observed at all economic development levels.**
Where do social entrepreneurial activities sustain?
(1

)
SE activities are commonly found in contexts affected by severe social problems. When the private sector fails to meet social needs, and there is a lack of institutional framework. Yet, environments with the highest level of institutional development and economic welfare show the highest ratios between SE-related activities "post-start-up operational phase" and "start-up" phase, suggesting that SE activities rely on institutional support mechanisms to foster (Figure 1).*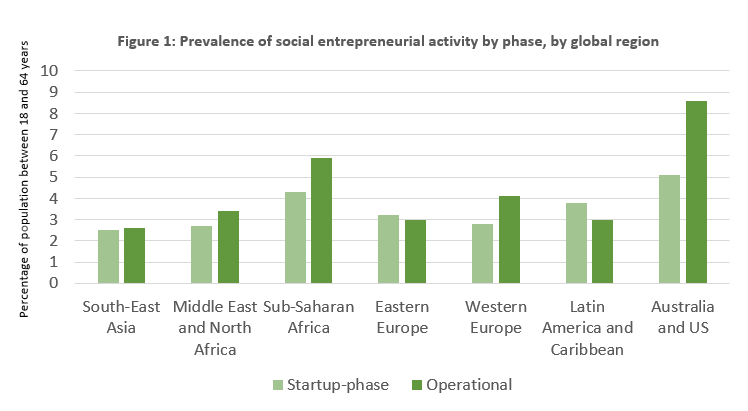 Social entrepreneurship and related concepts (1)(2) 
Similar to corporate social responsibility (CSR), the notion of SE has emerged in the 1950s. However, only over the past decade, research on SE has become a major literature stream. Although SE draws from similar disciplines, including entrepreneurship, sociology, ethics, anthropology, and economics, it differs from established concepts and phenomena such as commercial, cultural, or institutional entrepreneurship, CSR, social enterprises,  philanthropy, social innovation, sustainability, or the bottom of the pyramid. By contrast, SE focuses on three key aspects:
the social entrepreneur's behavioral characteristics,
the social enterprise's dual mission, and
the entrepreneurial activity or process that creates social value.
*Source: Global Entrepreneurship Monitor 2015 Report on  Social Entrepreneurship.
**Source: Global Entrepreneurship Monitor 2018/2019 Global Report 

Key success factors of social ventures (3) 
An exploratory qualitative field study identifies various key factors that influence the success of social entrepreneurial ventures:
entrepreneurs' social network
total dedication to the venture's success
capital base available at the establishment stage
acceptance of the venture idea in the public discourse
composition of the venturing team, including the ratio of volunteers to salaried employees
forming long-term cooperations in the public and non-profit sectors 
ability of the venture to stand the market test
entrepreneurs' previous managerial experience
REFERENCES
1- Saebi, T., Foss, N. J., & Linder, S. (2019). Social entrepreneurship research: Past achievements and future promises. Journal of Management, 45(1), 70-95.
2- Zahra, S. A., & Wright, M. (2016). Understanding the social role of entrepreneurship. Journal of Management Studies, 53(4), 610-629.
3- Sharir, M., & Lerner, M. (2006). Gauging the success of social ventures initiated by individual social entrepreneurs. Journal of World Business, 41(1), 6-20.
 
More about the Movement for Social*Business Impact
Discover the Inclusive and Social Business Certificate