Learn from HEC's world-class faculty and interact with inspiring students from the best Universities around the world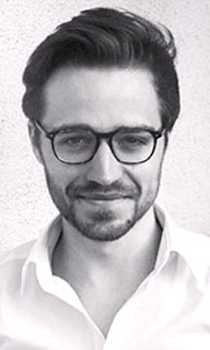 With both academics and professionals teaching courses there is a good mix of theory and practice.
MSc Strategic Management student
70% International students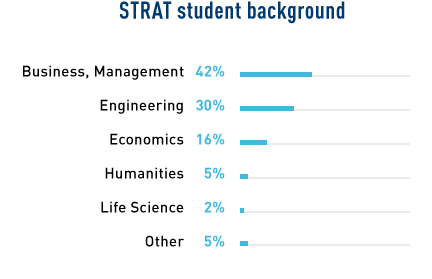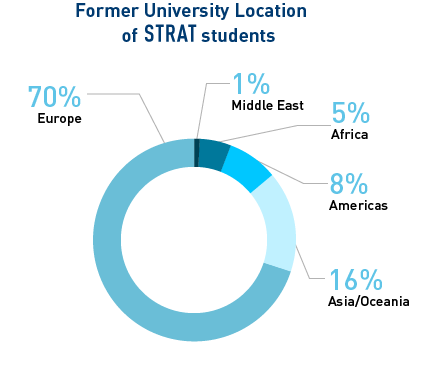 MSc Strategic Management
The program's emphasis on putting theory into practice prepares you for careers in any field – whether you choose to join a start-up, large corporate or consulting firm. The tremendously diverse cohort in the program is truly inspiring and made my...
MSc Strategic Management
We learn from real-life cases and are exposed to the business environment from very early on. You don't learn generic frameworks; there is a precious added-value from the first-hand experiences of professors, who are often industry experts.
MSc Strategic Management
Thanks to the rich curriculum of the MSc Strategic Management, interview preparation given at HEC and the school's endless networking opportunities, I will join the BCG office in Dubai after graduating Prior to HEC Paris, I graduated from NOVA School...
MSc Strategic Management
Throughout the program, the MSc Strategic Management at HEC Paris excels at bringing leading researchers together with some of the best minds in the industry Prior to HEC, I completed a BSc in International Business at Copenhagen Business School, the...
Academic Team
Today's business environment experiences constant and rapid change. Globalization, financial crises, the development of digital business models and emerging markets are causing drastic uncertainty among well established organizations. Firms need to be efficient in their response, embracing technological change and undertaking strategic action such as mergers, acquisitions and alliances.
These challenges signify a growing demand for strategic skills:
Multinational firms must refine their strategies, and continuously change their day-to-day practices.
Strategic Consultancy firms must constantly demonstrate the added value they provide to their clients.
Investment banks and corporate venture capital must shape new alliances, mergers and acquisitions.
As a result, the market today requires the highest standard of technical training; the HEC MSc Strategic Management meets this demand. Taught entirely in English, the program lasts 10 months and is actively supported by top international consulting firms, leading companies and investment banks which energetically take part in its curriculum through business cases and numerous real-life company projects.
Participants from all around the world will benefit from the program's international exposure, the involvement of corporate partners and the reputation of HEC Paris as a leading business school in Europe.
We look forward to welcoming you on campus.
 
Laurence Lehmann-Ortega
Academic Director
 

Christopher Harris
Executive Director
Around 50% of courses are taught by academic professors and researchers from HEC Paris and other universities and around 50% taught by professionals holding key positions in the private or public sector:
Laurence Lehmann Ortega, Academic Director, Affiliate Professor, winner of the 2015 Pierre Vernimmen Teaching Award
Thomas Astebro, Professor
Matthieu de Chanville (HEC 1998), Senior Principal, AT Kearney
Olivier Chatain, Associate Professor
Giada Di Stefano, Assistant Professor
Rodolphe Durand, Professor
Oliver Gottschalg, Associate Professor
Philippe Greco, CEO, Concomitance - Strategy, Sales and Marketing
Eric Hazan (HEC 1992), Partner, McKinsey & Company
Ambroise Huret (HEC 2000), Partner, Eleven Strategy
Frédéric Iselin, Affiliate Professor
Sri Kudaravalli, Associate Professor
Yann Le Fur (HEC 1995), Senior Banker, Natixis
Michel Lander, Assistant Professor
Bertrand Limoges (HEC 2000), Partner, Isatis Capital
Elie Matta, Associate Professor
Marie-Laure Michaud, Principal, The Boston Consulting Group
Joseph Nehme, Affiliate Professor
Michaël Ogrinz (HEC 2000), Partner, Advent International
Gonçalo Pacheco de Almeida, Associate Professor
Archag Touloumian (HEC 2009), Engagement Manager, Oliver Wyman
Bertrand Quélin, Professor
Marc Vermeulen, Affiliate Professor
...
HEC Paris is one of the world's top research schools in economics and management. Our faculty push the boundaries of knowledge by producing the highest quality research. They aim to have an impact on pedagogy, management practices, public policies and society at large.
Find out more