Jump HEC organises yearly a professional and amateur horse show jumping competition which takes place on the HEC Paris campus. It is a big event that brings together hundreds of competitors and thousands of spectators.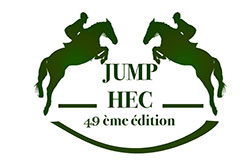 Society's history
Jump HEC was created in 1971, which makes it one of the historical associations of HEC Paris. Every year since its creation, Jump has attracted famous horseriders such as Alexandra Ledermann, Olivier Guillon, European champion Roger-Yves Bost and world vice-champion Patrice Delaveau. In 2018, the event was sponsored by José Letartre, French champion in handisport.
Over the years, the event has gained recognition in the equestrian world and attracts more and more riders each year. One of the reasons for the event's success is that it offers a grass course and a derby.
 
The mission
The ambition of the society (12 member), is to organise one of the school's biggest events, where everyone can come and support the student riders and professionals competing, alone or in teams, in a stunning setting by the campus lake. Throughout the year, the team plans the event by managing partnerships, planning budget, activities, communication...
 
The event
The competition is held over three days in June. Several trials allow professional riders to compete on demanding courses. Among the most emblematic : the 140 cm Grand Prix and the 125 cm Derby, both of which offer a breathtaking show.
Spectators can enjoy a buffet and several activities related to horse riding, such as induction training and pony rides for children.
The event, which is open to everyone, brings together more than 500 horseriders and more than a thousand spectators, whether they are students, competitors, company representatives or families.
 
Why join?
Participate in the organisation and innovation of an emblematic and renowned HEC Paris event.

Master the challenges of organising a prestigious sporting event.

To live a professional experience, through relationships with sponsors, communication and budget management.

For student riders, this society is a unique opportunity to bring your passion to life and create an event that will leave lasting memories.
 
Partnerships & Sponsors
Jump has established a partnership with Econocom and many start-ups from the world of horse riding who come to exhibit during the competition: Naski, West island, Optitro, Côté Crin...
Here are some sponsors of the previous editions:
PepsiCo
Deloitte
Birchbox
Airbus Group
N'GO Shoes
My Horse Family
Rid'Up
...