HEC Signs Landmark Accord Boosting Lebanese Students
HEC Paris and the HEC Foundation launched a historic partnership with CMA CGM to accompany 200 of Lebanon's most outstanding talents over the next decade. The "CMA CGM Excellence Fund for Lebanon" is the school's most ambitious grant program ever and will kick off in September 2022, after an initial period designed to select the country's future leaders amongst its university population.
From left to right: Philippe Oster (HEC Director of International Affairs), Eloïc Peyrache (HEC Paris Dean), Rodolphe Saadé (Chairman and CEO of CMA CGM Group), Delphine Colson (HEC Foundation Executive Director), Jean-Paul Vermès (HEC Paris Chairman of the Board) and Tanya Saadé (Executive Officer of the CMA CGM Group, President of the CMA CGM Foundation) | © Bernard Khalil
"Alongside CMA CGM, HEC shares a common objective: to instigate a social ladder that reaches out beyond our respective borders. This is all the truer in the difficult moments that Lebanon is experiencing nowadays." With these words, Dean Eloïc Peyrache heralded the unprecedented partnership with one of the world's leading maritime transport companies. At its core, the CMA CGM Excellence Fund for Lebanon is designed to bolster the Middle East nation's top management and civil service by offering HEC's top degree programs. It will be led by many of the school's 160 professors
That's the exact number of countries in which CMA CGM is present worldwide, and it's a cosmopolitanism which reflect HEC's own student population. This international flavor was one of several factors which influenced the choice by the company's French Lebanese president Rodolphe Saadé: "The CMA CGM Group is mobilizing itself for Lebanese students," he stated in signing the accord, "by providing them the opportunity to follow international programs of the highest pedigree at the French management Grande Ecole HEC Paris." Saadé's firm has displayed a longstanding engagement towards educating the youth of his homeland by setting up the CMA CGM Foundation. On top of this fund, for example, the foundation provided major support to 2,600 pupils in Lebanese primary and secondary schools in 2021-2022.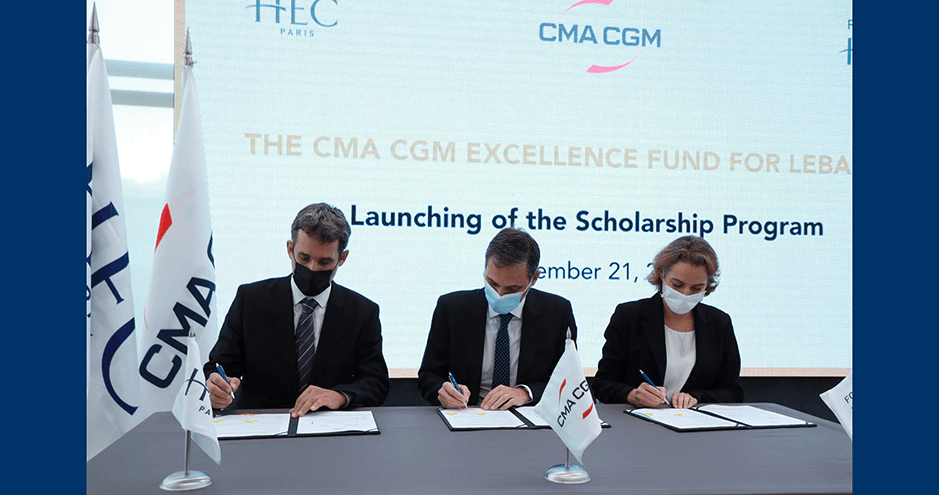 Lebanon's Historic Commitment to Higher Education
Each year, the Fund will be financing 20 of the country's most outstanding students - culled from Lebanon's 32 universities - who are unable to pursue their academic studies abroad for financial reasons. As such, it will prolong a tradition going back over a century, as the Land of Cedars is the first Arab nation to have developed a modern higher education system, dating back to 1920.
Well before this partnership, HEC had seen outstanding Lebanese students graduate from its ranks. Nowadays, its alumni population boasts over 500 graduates who regularly invest in French Lebanese initiatives. One of these brought about the conception of an Entrepreneurship Master in 2017, a degree taught at ESA Beirut. The master was created partly through the efforts of the former president of HEC Alumni in Lebanon, Nicolas Boukather, and is currently directed by Joseph Nehme, Associate Professor at HEC, who joined the school's ranks in 2010. 
A growing commitment to social impact
This latest partnership is part of HEC's growing commitment to programs with social impact. It was signed into being in Beirut by HEC Foundation Executive Director Delphine Colson on December 21, 2021. She hopes the fund will allow Lebanese students to acquire international experiences and skills they can put into practice on returning to their homeland. As Rodolphe Saadé said in closing the accord: "The future of a country is built by its youth. This long-term partnership will also reinforce the historic links between France and Lebanon."
Read the December 21, 2021 press release (in French)