Society & Organizations Institute
INCLUSIVE ECONOMY DAY 2023
The Inclusive Economy Center at the S&O Institute of HEC Paris is very pleased to invite you to the first edition of the Inclusive Economy Day on April 13, 2023 on HEC campus.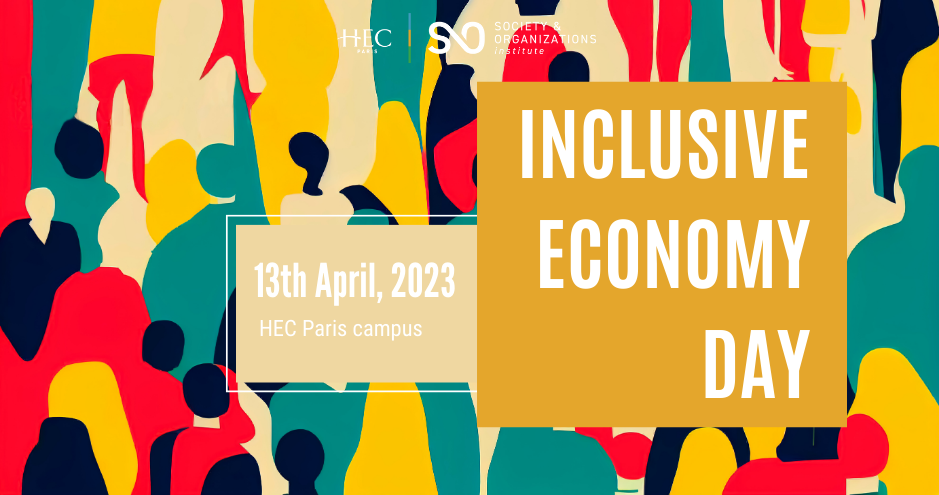 Management scholars and practitioners are invited to join us for a series of discussions exploring the latest research at the intersection of management, social issues, inequalities and impact. Academics will present original research on building inclusive workplaces, inclusion and entrepreneurship, corporate responses to the refugee and forced migration crisis, delivery of essential services to disadvantaged groups, enriched by diverse practitioners' perspectives. We will also break out in small group discussions to explore how experimental research could help real-world organizations address concrete social challenges.
Agenda
9:00: Welcome Address: Eloïc Peyrache, Dean of HEC Paris
9:15 – 10:15: Research session 1: Inclusive workplaces and mission-driven corporations
with the practitioner's perspective of Gilles Vermot Desroches, Director of Corporate Citizenship and Institutional Relations, Schneider Electric
10:30 – 11:15: Research session 2: Inclusion and Entrepreneurship
with the practitioner's perspective of Nathalie Riond, Executive Director, StandUp
11:45 – 12:45: Research session 3: Zoom on Migrants and refugees
with the practitioner's perspective of Maureen Sigliano, Chief Impact officer, Each One
12:45 – 13:30: Lunch
13.30 – 14.15: Action-research: Panel discussion on the power of experimentation
with Maria Guadelupe, INSEAD and Marieke Huysentruyt, HEC Paris and practitioners
14.15-16.15: Action-research focus groups where participants will have the opportunity to help companies design research initiatives to address real-world problems. 
16:15-17:45: Research session 4: Inclusion and essential services
with the practitioner's perspective of Jacques Berger, Director of Action Tank Entreprise et Pauvreté 
17:45-18:15: Spotlight on the new Impact Lab with Schneider Electric 
18:15-19:15: Cocktail and networking
Event made in partnership with:

For more informations about the event, please contact Elisabeth de Réals: dereals@hec.fr