Society & Organizations Institute
Purpose Center
Purpose Center
Purposeful Leadership is a fundamental part of HEC Paris' mission to shape the leaders of tomorrow who understand that their obligations go beyond the bottom line and contribute to the greater good in society.
First Edition of the HEC Purpose Day
Confronted with burning questions, humankind and its multiple forms of economic organizations must renew its roots and practices. 

We have a wide scale responsibility to act collectively and urgently to face today's challenges in a world that is increasingly interdependent socially, economically and environmentally.

In this context, the expectations of all stakeholders have evolved. The role of companies needs to go far beyond creating just financial value. Economic performance goes hand-in-hand with positive social and environmental contribution, and businesses can only be successful in the long term if they also enable all of their stakeholders, community and the environment to thrive.
This new environment urgently calls for a new type of Leadership. HEC Paris has decided to play a critical role in this necessary and urgent refounding of business. The objective of the S&O Institute is to prepare tomorrow's leaders to create a future where businesses strive to create long-term value that benefits customers, employees and communities. By placing Purpose and Leadership at the heart of strategy, we promote the leadership spirit that will contribute to redesigning a responsible and inclusive capitalism to face the challenges of the 21st century.
Unleashing human potential by placing purpose at the heart of Leadership
We aim at answering the question of purpose of an organization and how to articulate it with the search of meaning of individuals
The first essentials questions guiding Purposeful Leadership
Why do we work ? What is the purpose of a company or an organization ? 
How can we find meaning in our work ? Is a noble purpose solely in the realm of philanthropy or Corporate Social Responsibility, or can we make this the core focus of a company and all its activities ? 
What principles and practices can guide the actions of today's leaders ? 
How can we create an environment in which individual members of an organization can be themselves and blossom personally and professionally ? 
Can Purposeful Leadership result in superior business and financial performance ? 
 Funded with the support of Hubert Joly H81, Executive Chairman of Best Buy, the Joly Family Endowed Chair In Purposeful Leadership is a first and significant step to positioning the school as a recognized center of global excellence for the study and dissemination of Purposeful Leadership.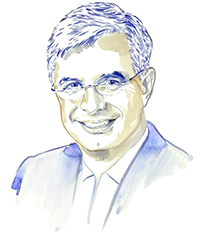 I believe that leadership is about purposeful, authentic, human service.
Book Release: "En quête de sens". Dialogue between top leaders and young talents
Sincere and uncompromising testimonies about the company's mission.
Read more
S&O - Purpose Center Contacts
HEC Faculty affiliated to the Center