HEC Paris Welcomes New Professors
The first week of September saw seven new faculty members join HEC Paris from around the world. Having trained in some of the most renowned Ph.D programs and business schools, including LBS, Carnegie Mellon University, Tilburg University and INSEAD, the new members of the faculty reflect the diversity of thought and culture, the open-mindedness and the rigorous intellectual standards promoted here at HEC Paris.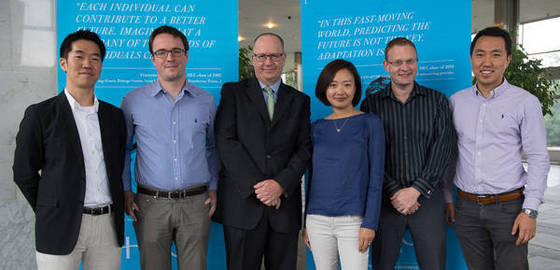 For the new intake, four professors have been recruited from Asia, namely: Jin Wook Chang, Woonam Hwang and Woo-Jin Chang from Korea, and Yangjie Gu from China. Jin Wook's  research focuses on the behavior of individuals and groups in competitive situations, particularly on how competition, both within and between groups, affects the way in which group members utilize their knowledge and opinions. Woonam works on how to better manage risks in supply chains. On the supply side, he studies how firms and regulators can induce reliable supply with high quality products in a supply chain. On the demand side, he examines how consumers' behavioral biases contribute to demand volatility. Woo-Jin's research interests focus on financial accounting areas: economic consequences of the regulatory change in accounting, valuation and financial statement analysis and the role of accounting information in firm valuation and executive compensation. Yangjie's research interests lie in the domain of consumer behavior and decision-making. In particular, her research focuses on examining factors that influence post-choice satisfaction and preferences, as well as consumer's hedonic adaptation.
Two french professors have also joined the finance department: Denis Gromb who works on  corporate finance and governance, banking, the economics of organizations and the limits of arbitrage in financial markets; and Guillaume Vuillemey whose research applies to derivatives markets, the functioning and regulation of banks and financial markets, as well as risk management.
Finally, John Mawdsley from the UK has joined the strategy and business policy department. His primary research interests concern the intersection of cooperative strategy and strategic human capital, with an emphasis on how knowledge-intensive firms create and capture value from client relationships and their professional workforce.  He has secondary research interests on the drivers and impacts of employee mobility and co-opetition in vertical exchange relationships.
These new professors further enhance our courses and programs through their outstanding research work, in-depth knowledge of management issues and their original teaching materials. 
Accounting and Management Control Department
Woo-Jin Chang, Associate professor
 Ph.D. in Accounting, Columbia University
Finance Department
Denis Gromb, Professor
Ph.D. in  Economics, Ecole Polytechnique
Guillaume Vuillemey, 
Assistant Professor
Ph.D. in Economics, Sciences Po Paris
Marketing Department
Yangjie Gu, Assistant Professor
Ph.D. in Marketing, London Business School
Management and Human Ressources Department
Jin Wook Chang, Assistant Professor
Ph.D. in Organizational Behavior and Theory, Carnegie Mellon University
Strategy and Business Policy Department
John Mawdsley, Assistant Professor
Ph.D. in Strategy, University of Illinois at Urbana-Champaign, USA
Operation Management and Information Technology Department
Woonam Hwang, Assistant Professor
Ph.D. in Management Science and operations, London Business School
Several new affiliate professors have also joined the faculty. They will contribute to the progress of management practice through their interaction with the business world:
● Patrick Albaladejo who specializes in international brand strategy, Image and communication, luxury, spirits
● Liza Kharoubi Echenique who specializes in artistic performance, contemporary philosophy and the business environment
● Emmanuel Kemel, a CNRS researcher who specializes in decision theory, behavioral economics, transportation economics and health economics
● Gachoucha Kretz, a specialist in e-marketing, luxury and fashion
● Olivier Sibony who specializes in leadership, strategic management, behavioral strategy, management of innovation
● Cyril Pierre de Geyer who is an expert in entrepreneurship, digital innovation, information technology strategy, Business strategy
● Arthur Saint Père, specialist in digital entrepreneurship, sales, e-commerce, business strategy, marketing strategy, negotiation.
● Marc Vermeulen who has expertise in the fields of corporate finance, banking, mergers and acquisitions