HEC's Proteen Team Eyes $1 Million Hult Award
HEC Paris is marking the tenth anniversary of the annual Hult Prize, nicknamed the "Nobel Prize for students" after winning the regional final in London. A team from the MSc Sustainability and Social Innovation (SASI) now prepares for a chance to go to September's global showdown.
Can the HEC ProTeen reach the September 15 Hult Prize Foundation Finals at the UN headquarters in New York? This is the dream of a trio of HEC students who won the March 15-16 London Regional Finals with a project combining waste management and youth employment. Now, they set their sights on being one among six teams retained after a July incubation in London featuring 40 teams in all.
For the past six months, Ludivine Bérouard, Alessandra Mantovani and Louisa Kuehme have been developing an ambitious idea to provide "meaningful work" for over 10,000 young East Africans. At the heart of their decade-long plan is a way to use larvae to transform organic waste into protein-rich feed for livestock. "By leveraging this new method to build insect farm franchises operated by youth," they explain, "our business would tackle waste generation, food insecurity and climate change." Oh, and it would also create impactful work for countless youth throughout Africa.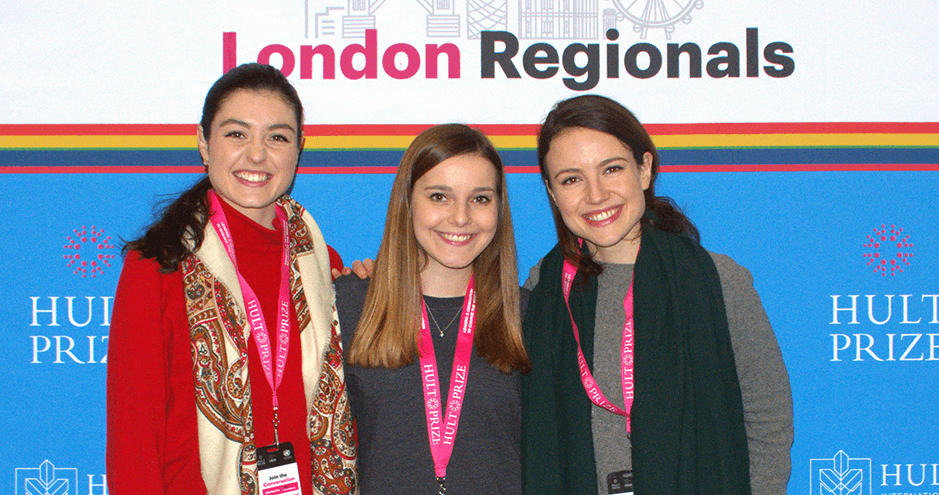 Last-Gasp Effort to Win Through
Early in this academic year, their presentation (under the name Mawa project) bagged the prestigious Startup Launchpad program, a first for students from HEC's SASI (MSc Sustainability and Social Innovation) Master's degree. This program enables budding entrepreneurs to rally the whole HEC community and the Ecole 42 ecosystem behind their efforts to incubate the startup. "During the Launchpad we refined our pitch through weekly coaching sessions with experts and bi-weekly meetings with investors" said Alessandra Mantovani, an American designer/entrepreneur. "I'm very proud of what they have achieved so far," added Jeremy Ghez, scientific director of SASI. "Such a project reflects our attempts to make entrepreneurs focus beyond their bottom line. Ludivine, Louisa and Alessandra are part of this new generation of change-makers, many of whom are destined to become successful entrepreneurs."
The three students are now answering the global call by the Hult Prize 2019 Challenge for students to address and redress youth unemployment through startup ideas. The annual competition is part of the US-funded organization's decade-long drive "to leverage the crowd (and) sustainably solve the world's most critical problems". Last year, according to the organizers, 100,000 teams proposed 200,000 startup ideas. The teams were whittled down to 1,500 entrepreneurs vying in regional finals for places in the grand finale in New York. "We decided to join the competition on campus just one week before it was taking place," said Louisa Kuehme, a German graduate who is working at the OECD as part of her SASI degree. "We had met during our MSc studies here and, with a lot of hard work and long nights, we managed to put together a pitch that convinced our jury at HEC Paris to send us to the London Regional Finals."
Revolutionary Use of Black Soldier Fly
The team had a competitive advantage: during Ludivine Bérouard's 2018 gap year, the French student worked in the Ugandan coffee industry thus familiarizing herself with the lie of the land. As a result, she linked up with local activists to form a prototype. Once back in France, Bérouard teamed up with fellow SASI students Mantovani and Kuehme, to bring her vision of African youth empowerment to life. In concrete terms, their joint ProTeen project aims to open 1.7 million insect farms in Africa which will employ 12,000 youth by 2030. Their project centers on a groundbreaking use of the Black Soldier Fly Larvae to transform organic waste into animal feed.
At the London finals, they beat off an epic voyage via Prague, and 57 teams to pick up joint first place. In the Award's nine-year history, this is only the second time HEC has reached these world finals. The previous time was in 2014, when a project called Bee Healthy was pipped at the post in the Boston finals by NanoHealth. This year, the three students will first prepare with a two-month incubation at Station F, followed by a five-week incubation course in London. They will continue to benefit from the advice and help of former coaches Rémi Rivas, Jennifer Lu and Academic Director Laurence Lehmann-Ortega.