HEC Foundation Rewards Outstanding Research in 2022
The 46th edition of the HEC Foundation Awards once again highlighted the cutting-edge excellence of the school's research at all levels. 11 prizes in nine categories were awarded to academics and students who, in the course of the last year, have written works that are seen as a formidable vector of influence and impact on current or future leaders - both in business and society at large.
© Estel Plagué, HEC Stories
"On behalf of the Foundation and the nine jury members, let me congratulate all those nominated and awarded for the pertinence of their work and the rigor of their analyses." With these words, the HEC Foundation Executive Director Delphine Colson opened proceedings at the March 27 award ceremony. As with last year, the prizes were split over two events. In early March, six students were rewarded for works ranging from anti-harassment initiatives (MBA candidate Anna Dragina) and programs to reduce prostate cancer mortality amongst minority men in the USA (EMBA graduate Quoc-Dien Trinh); to proposals to transform organizations' value architecture to achieve decarbonization (SASI graduate Janice Klaiber), and the creation of a digital platform to provide drinking water for Nigeria's megacity of Lagos (EM graduate Joseph Reymond).
A few weeks later, it was the turn of HEC's top academics, assembled in the Paris HEC Alumni headquarters, to accept rewards for the years of intense research in their respective fields. "The bar is being set higher and higher each year," admitted Andrea Masini, Dean of Faculty and Research at HEC. "It's a real challenge for the juries to identify the laureates because the quality of the papers and pedagogical initiatives is improving all the time. So, I think our game is getting tougher by the year." 


Doctorate Prize for Social Cognition Processes

This particular evening, four of the annual awards were attributed to the HEC academics who caught the eye of the nine-strong jury. In the presence of Foundation representatives, HEC deans, the jury members, individual donors and corporate partners, it was the occasion to reward a wide berth of academic excellence.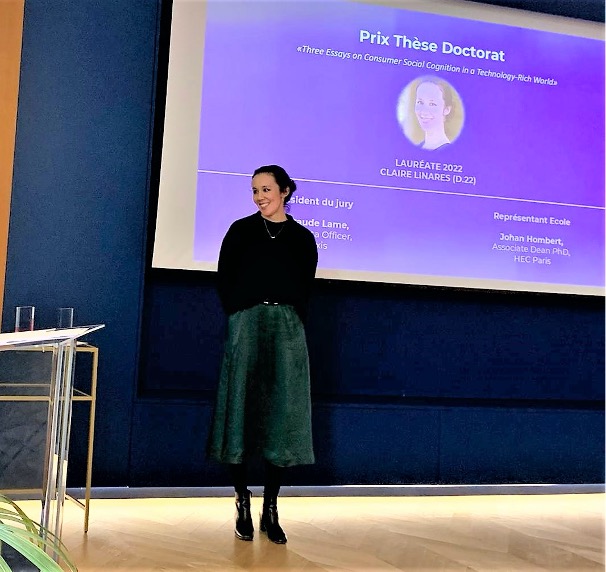 PhD Director Johan Hombert began proceedings by congratulating PhD Doctorate awardee Claire Linares for her work on consumer social cognition processes. "This is a hugely competitive field and demands a great deal of sacrifice. You have shown exemplary commitment, including putting aside your professional career a decade ago to devote yourself to this work on the effect of technology on social interactions and creativity."
Linares' award is the culmination of a long collaboration with her supervisor, HEC Marketing Professor Anne-Laure Sellier, who herself won Foundation awards in 2013 (Pedagogical Innovation) and 2020 (Research Article of the Year). Sellier was on hand to applaud her former student's achievement and shared the words of the jury: "Claire is destined to have a great career in academia. Her work on the existence and consequences of facial stereotyping in marketing and management is part of an important breakthrough in facial detection technologies and access to facial data online."


Ruthless Competition
HEC's Associate Dean for Research, Christophe Pérignon also underlined the tremendously competitive fields the research professors operate in. Before handing the Article of the Year Award to Associate Professor Denisa Mindruta, Pérignon outlined the context: "Each year, HEC professors publish around 50 articles in "A" journals of their respective fields. These  journals receive submissions from academics from the best universities in the world and typically accept only 5% of them. The publications represent two-three years of preparation, data-collection, investigation, writing, presentation, revision, ... Tough waters to navigate! Which makes Denisa's article on CEOs' human capital and how it relates to their firms' strategic approach to acquisition all the more praiseworthy." (Find her awarded research article explained on Knowledge@HEC, in English and in French).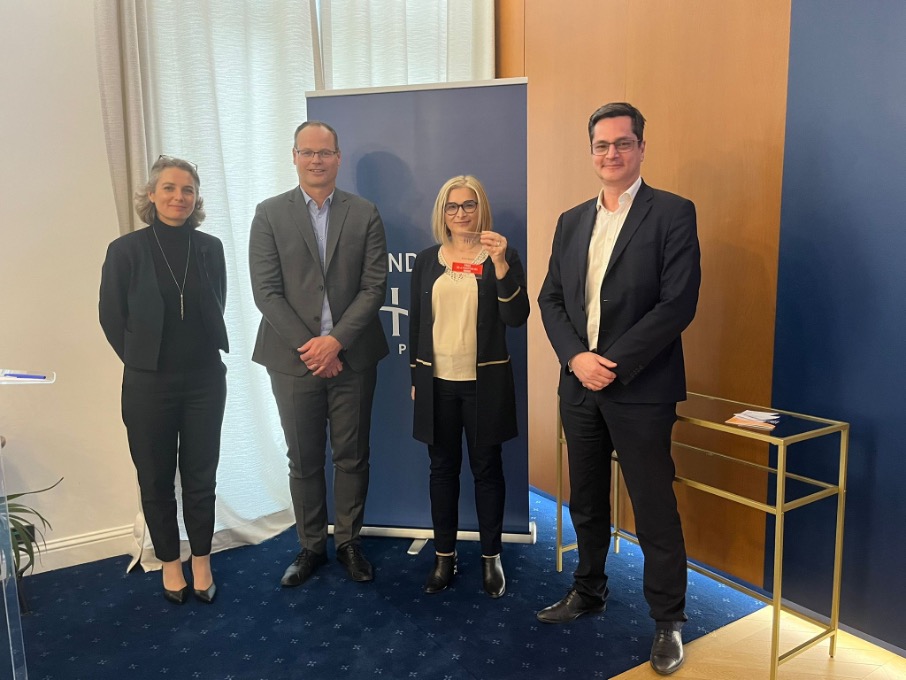 The professor from the Strategy and Business Policy Department graciously accepted the award in the presence of jury president Laurent Inard, partner and Chief R&D Officer at Mazars. "I am deeply honored to be awarded this trophy from a jury that mixes professionals and academics," Mindruta said. "It underlines one of the objectives I've set out for my research: to be relevant in the world of management and make an impact."


Preparing Climate Leaders of Tomorrow

Impact is just one such objective behind the newly-created Climate & Business Certificate created by HEC academics Daniel Halbheer and Igor Shishlov. The duo won the Bruno Roux de Bézieux Award for the originality, pertinence and efficacy of their new program. "Pedagogy has evolved in unheard ways these past years," said jury member Anne Michaut, HEC's Associate Dean (Education Track and Pedagogy). "These rewards recognize the importance of making our courses evolve, thus preparing students to navigate the complexities of the world they are entering."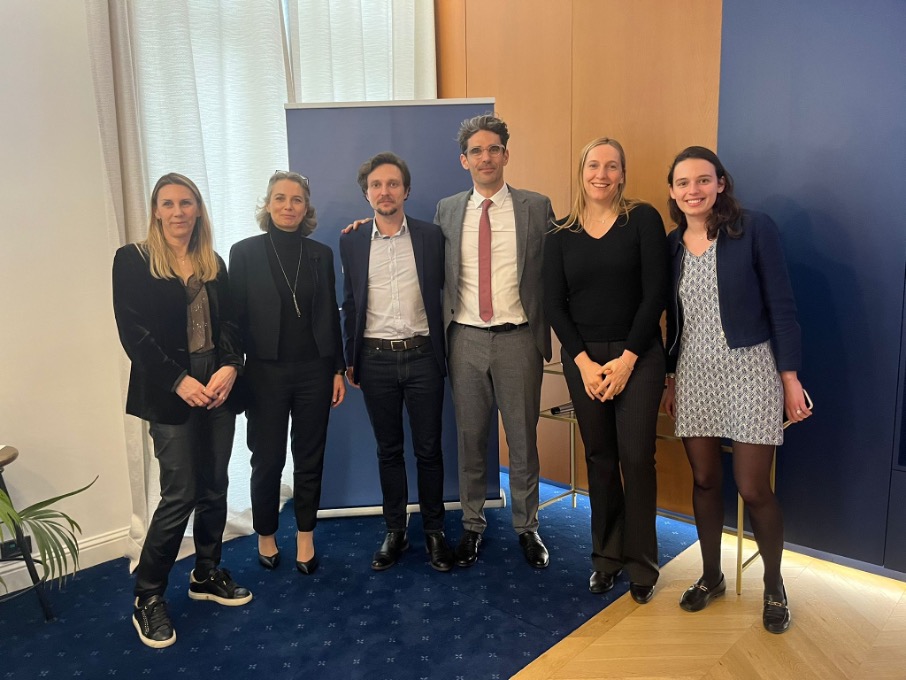 The certificate provides students with the tools to forge careers as climate leaders working on ways to limit the global temperature rise to 1.5°C. "We feel humbled by this award," said Shishlov who also works as a consultant on climate policy at Perspective Climate Group. "We began working on this program two years ago," added Halbheer, who is the FII Institute chairholder on Business Models for the Circular Economy. "We started with a blank sheet of paper since it's only a recent addition to the HEC curricula. Now the topic has become a strategic issue, reflecting the growing interest in firms who are tackling climate change. We believe this certificate is a stepping stone towards integrating the issues and challenges into several HEC programs." Details of the academics' approach to this crucial certificate have been detailed by HEC Stories.


Allying "A" Publications with Impact
It came down to Andrea Masini to wrap up the award ceremony by presenting the 2023 Researcher of the Year Award to Pepa Kraft for her work on rating agencies: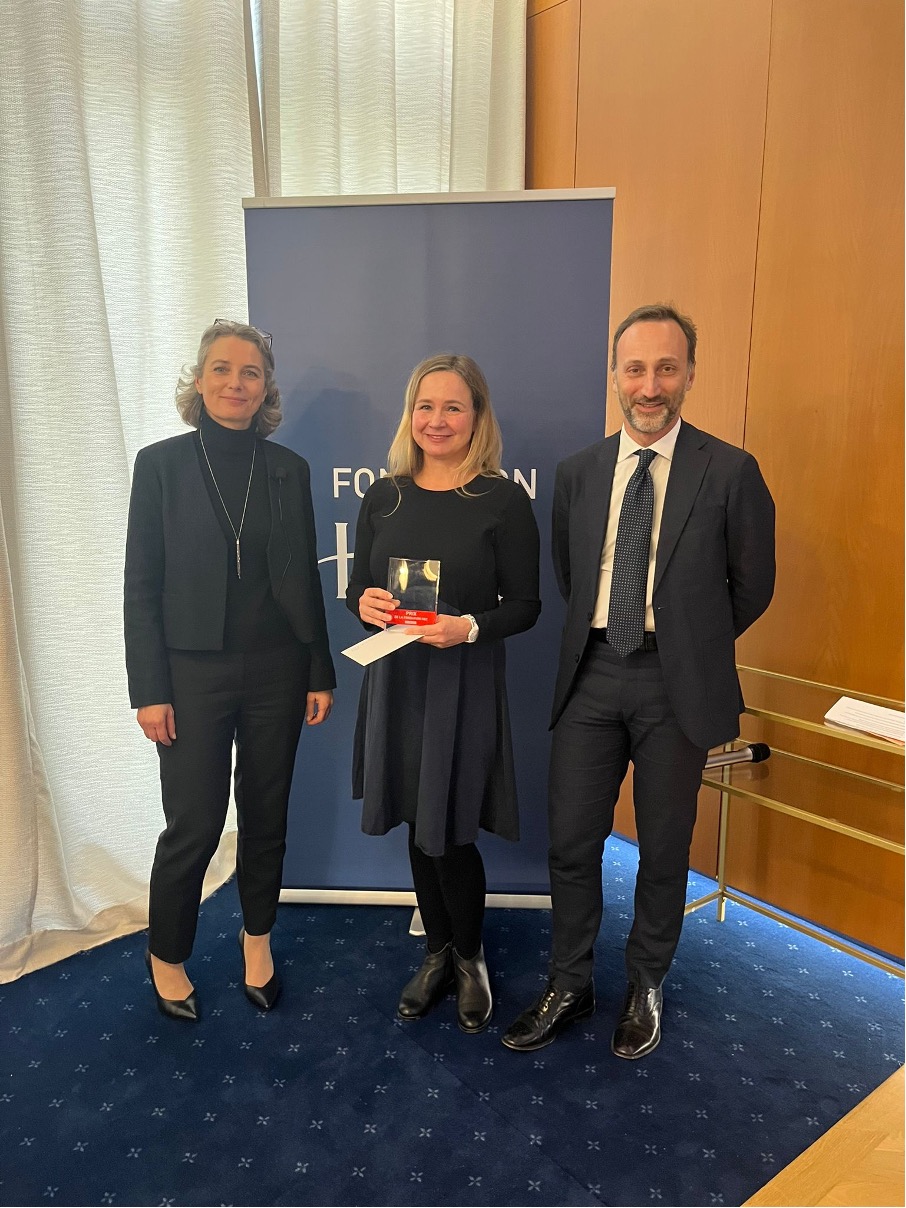 "Pepa's seminal research not only contributes to the academic debate," the Dean of Faculty and Research declared, "by shedding new light on how these organizations behave against risk and uncertainty; but it also has far-reaching practical implications for investors, borrowers and regulators alike.Being able to provide these actors with insightful and rigorous practical recommendations is an invaluable contribution to our society." Kraft has spent years researching rating agencies, structures which provide scores according to how safe it is to lend money to them. "Right now, I'm working on whether rating agencies can help us predict accounting fraud. Can they engage in a negative rating action when they downgrade someone or put them on a negative watch list? By better understanding these mechanisms, we can help market participants predict that the firm is engaged in accounting fraud." 
More broadly, the professor who is also a Chartered Financial Analyst has been studying the biases within credit rating agencies and their rating process. "Accounting rules are written in a way that allow firms to recognize debts that meet standards and other types of debt can sort of be hidden. Rating analysts dig deep and get those numbers onto the balance sheet. So, it's very, very prevalent, you have to dig into the footnotes or do a series of financial statement analyses to reveal them." And how do the credit rating agencies respond to her work? Kraft laughed: "I've presented it to agencies and sometimes it was like stepping into the lion's den. But in the end, we had very beneficial discussions."
Meanwhile, the author of "Market Power and Credit Rating Standards: Global Evidence" said she was extremely grateful for the recognition by the Foundation Awards: "Research is a long, sometimes very lonely process. It can be frustrating to have your papers rejected and have to resubmit after years of work. So, it's nice to have such an award on top of the acceptances." (Find two of her research papers explained on Knowledge@HEC).
Learn more about the impact of the HEC Foundation on the production of knowledge at HEC Paris on this page here.